dah berubah. dah bertukar. daripada purple ke coklat. kenapa? mungkin sebab dah lama tak makan coklat. teringat coklat. eh, bukan...semuanya dah bertukar coklat kerana gambar kat atas tu dah tukar. daripada gambar buku atas meja kepada gambar "RANCH ROAD - DEAD END". sebenarnya gambar tu diambil daripada National Geographic punya website. mungkinkah tidak boleh, sebab gambar itu dicopyrighted? tak tahu la pulak. habislah kalau tak boleh. nanti kena saman dengan National Geographic pulak kang. Anyway,
Let's take a look at what it said : Dead End.
Do you believe that there will be a point where we call it a dead end in our life? 
I don't think so. 
Kita sentiasa ada pilihan. kita boleh pilih apa yang kita nak buat dalam hidup kita. 
Jadi pilihlah yang betul.
Dan apabila kita rasa kita dah sampai ke jalan mati, apabila kita tak tahu apa lagi yang kita perlu buat,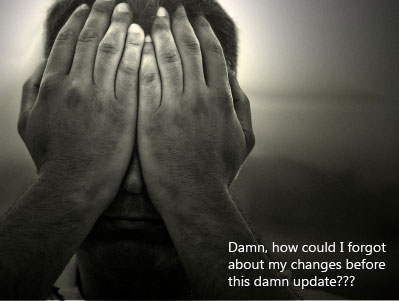 kita sentiasa boleh patah balik.
U-Turn. 
Ke pangkal jalan. supaya kita boleh start perjalanan kita semula. dan kesalahan lalu boleh dielakkan. kerana kita dah ambil pengajaran.
fikirkan.